Webmaster & KQ4 Jock / sometime
Music Dir.


Larry Scott




Spiritual Advisor, Historian & KQ4
Chief Engineer / Jock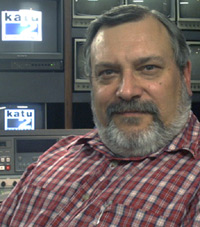 J. R. Miller


TRANSMITTER & TOWER PAGE

Engineering information provided by Joel "J. R." Miller, Bob McClanathan and others. Here is a look at the transmitter and tower facilities from the earliest days when there was just a hole in the ground. We will add more as we can dig up the photos. Be sure to check out The Studios page.



If you look closely, you can see KQIV's AEL FM-25KD transmitter (Ser. No. 008) sitting on a pallet inside the unfinished building.





American Electronic Laboratories (AEL)
FM-25KD transmitter and the AEL logo from the KQ4 era.
J.R. Miller remembers: It was a big day. Saturday, August 12, 1972. After several weeks of installation work, KQIV's consulting engineer Bob McClanathan was ready to test the transmitter. Manufacturers' representative Tom Aye flew in from Sunnyvale, California, and Don Richardson, AEL Transmitter Division Manager, arrived from Lansdale, Pennsylvania, for the event. Bob had borrowed a 25KW air-cooled dummy load for the test, but it immediately failed upon application of power. Now what?


Clackamas County Fire District tanker
at the KQIV transmitter.


(Left to right): Don Richardson, a county
firefighter, and Tom Aye pose with
the tanker that saved our day.

Bob had an idea. He knew that Portland's KPAM-FM had a water-cooled dummy load that would handle the job, but there wasn't adequate running water available at the transmitter site. So, he assigned me the detail of finding a water tanker while he headed into Portland to see if he could borrow KPAM-FM's dummy load.
Now, where do you find a tank truck full of water late on a Saturday afternoon? After thinking on it a few moments, I drove to downtown Oregon City with a possible source in mind. After explaining my dilemma to the nice firefighters at the Clackamas County Fire District station, I was relieved when they said they'd be happy to help, and would be up in just a little while. Bob got back with the dummy load and its hoses were connected to the tanker. As the cool waters flowed, the transmitter tests were completed successfully. KQIV now was ready to attach the real antenna and hit the airwaves.


(Left to right): Don Richardson, tower man
Frank Baker, and Bob McClanathan. The
transmitter is putting its full power into the
dummy load as Bob measures the output
with a Bird wattmeter.
| | |
| --- | --- |
| The brawn behind the job. A Utility Tower Company boom truck, whose winch pulled the tower and antenna sections up to their new resting places. | V. G. Duvall from Utility Tower Company prepares to hoist a gin pole up the partially completed KQIV tower. |


V. G. Duvall prepares one of the eight elements of KQIV's Jampro JSCP Penetrator antenna that were hoisted skyward.

Jampro logo from the KQ4 era and
Jampro JSCP Penetrator side-mounted
antenna. Three bays shown in photo.
| | |
| --- | --- |
| At 190 feet up, V. G. Duvall installs the second of eight antenna bays. | V. G. Duvall fastens a guy cable to the partially built KQIV tower. |
| | |
| --- | --- |
| Chief Engineer J.R. Miller stands on a huge mass of concrete that encased one of the three guy cable anchors for the 200-foot KQIV tower. | The KQIV transmitter's next door neighbor -- a Pacific Northwest Bell Telephone microwave repeater station. (Note J.R. Miller's Chevy II, which later became KQIV owner Walter Kraus' little KQ4Mobile) |