Retired Webmaster


Larry Scott KQ4 Jock / Sometime
Music Director
Webmaster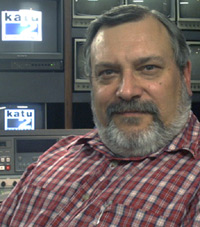 J. R. Miller KQ4
Chief Engineer / Jock

WHERE ARE THEY NOW? PAGE

Here are the answers to the question: Where Are They Now? These will be listed in alphabetical
order with a note on the date posted.

Bookmarks
1-Bob Ancheta 2-Joe Collins 3-Faith 4-Norman Flint
5-Gloria 6-Dick Jenkins 7-Jack Malone 8-Gerhard Meng
9-Joel Miller 10-Mike Sakellarides 11-Larry Scott
Bob "The Big B.A." Ancheta
Jock / Production
1973-1974
(Posted 4 DEC 04, Updated 5 NOV 11)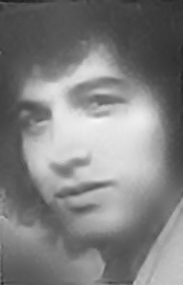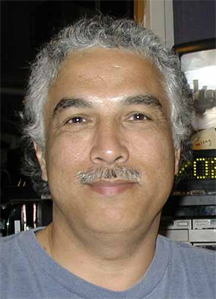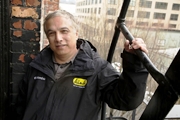 Bob "The Big B.A." Ancheta is still in Portland. He owns Internet Jock dot Com. And, Bob is still active in radio, doing "Sunday Night Blues" on KINK. He was inducted into the Oregon Music Hall Of Fame on October 8th, 2011.

Bob's Sunday Night Blues web page

Bob's business website is Internet Jock dot Com

Read Bob's memories of KQ4
Joe Collins
Jock / Production / Sometime Program Director
1973

(Posted 1 OCT 04)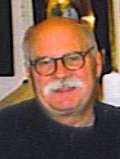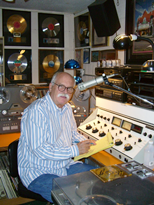 Joe Collins left KQIV in Oct. of 1973 and one month later landed a job on-air at KMET in Los Angeles. In 1974, Shadoe Stevens became Program Director and promoted Joe to the position of Music Director and Joe also eventually became the 10pm-2am host in the evenings. He became Program Director of KFIG in Fresno in March of '76. One ironic coincidence was, Joe immediately hired former KQIV personality Jeff Clarke to do 7pm-12 midnite.
Joe moved back to his home town of San Luis Obispo to restore his house there, as well as program KSLY-FM for 4 years from 1982 until '86, then returned to Fresno to several radio jobs, then moved into television, becoming an independent sales representative for the UPN television network station in Fresno.
Joe today owns his own advertising agency, hosts a Saturday morning jazz show on KAAT-FM in Fresno called "Breakfast at Joe's", and is in excellent health and spirits at the young age of 58. Joe is also going to get married to Adele McAndrews, who he began "dating" back in 1979. When asked, "Why has it taken you guys so long?" Joe answered, "We thought we should kick the tires a bit before buying it."
- - - - - - - - - -
Update of 5 NOV 11
Joe Collins is 65 years old, married Adele McAndrews in 2006, and from 2006 thru 2011 hosted a weekly Rhythm and Blues radio program in Fresno and Los Angeles called "The "Rhythm and Blues Chronicles." The show ended in late August after running for six years.
Joe still owns a Fresno advertising agency, Joe Collins Productions, and is still the voice for several San Joaquin Valley businesses. Today he is semi-retired, but is working on a new project that may surface soon. Joe still owns his home in San Luis Obispo.
Joe's Memories
Joe's Airchex
Faith
Jock / Production
1973-1974
(Posted 3 DEC 04)




I have been married for twenty-one years to my wonderful husband Jan. We have lived throughout the west and recently moved back to the Portland area.

This little trip down memory lane was a great reminder that no working experience since KQIV has compared to the crazy, horrible, wonderful, mythological KQIV.

Rock On!

FROM FAITH'S MEMORIES....read the whole thing

- - - - - - - - - -

Update from Faith, 5 NOV 11

Wow - these seven years flew by! What in the heck is on my head, that orange shirt and stylish mandala are sure to make a comeback! OMG, make it go away! I am working at the U of O in Eugene and returned to my documentary roots. After failing my Second Phone license numerous times (even with Joel's math tutoring), I never would have believed I would become a Techie - but I do love the computer age. I recently completed a documentary and restoration of original 16mm film shot between 1930 - 1941 in Cottage Grove. I am now completing editing on 15 hours of interviews with many people who appeared in the films as children and teens. Their stories are compelling and inspiring, including the son of a survivor of the Titanic, and several WWII veterans who came from this small timber town and went to the four corners of the world.
After nearly drowning in the Coast Fork River on a little kayak trip, I decided to focus on fulfilling some old aspirations. I joined a garage band as lead singer (Bark Shanty) which has been great fun. Due to time constraints (and perhaps old age) we have cut our performances to a few special annual events at the Axe and Fiddle - a bit of Floggin' Molly St. Patrick's Day, and a heapin' helpin' of etouffe for Mardi Gras and other mystical occasions. I attached a link to an original tune written by Rob Murtaugh and will let Cab Calloway and Betty Boop provide the personification.
KQIV remains a fond memory, other than having to view the terrifying ghosts of my fashion disaster past. All the best to all the best!
Norman Flint
Jock / Production
1972-1973
(Posted 28 NOV 04)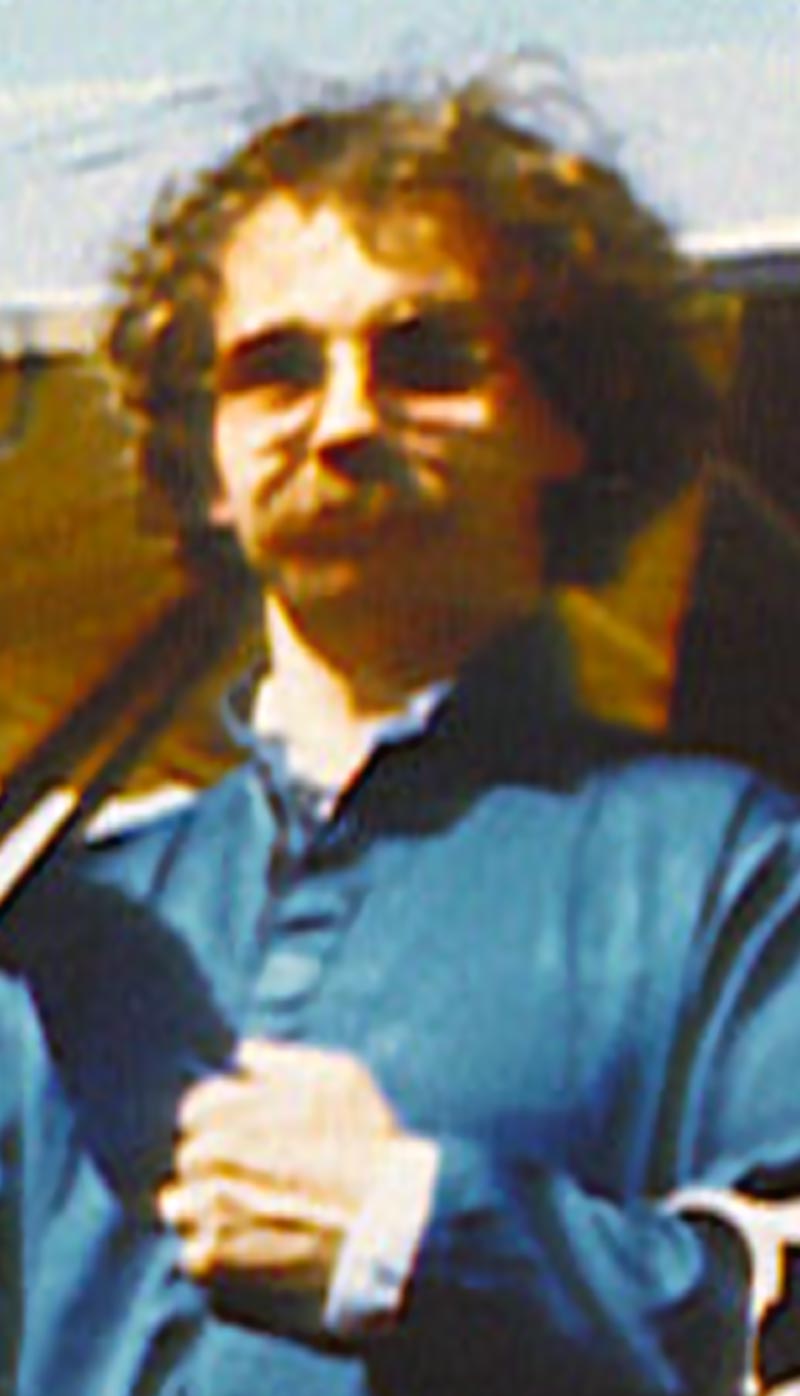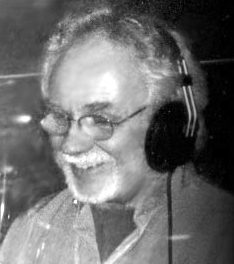 Joel "J.R." Miller managed to contact Norman Flint and below is a portion of an email from Norman after he viewed this site.....

Well ... I've just invested the last 90 minutes traveling down 'memory lane' - I know I'm not the first to say, Thank You!

Having had the good fortune to have been many places some only dream of; WCBS-FM's entry into the 'underground' in '69 where I first met Steve O'Shea, to Toronto and Kharma Productions with John and Yoko, to the Legendary KGB here in San Diego, KQ4 has always been the mist in the magic that beckons ..... About a year after leaving CBS, Steve saw me walking the streets in San Francisco and told me he was looking for me and that I should come to this new FM in the Portland area. I brought Joe's furniture up with me ...

RE: The Concert Page - I don't remember which one it was, but I have a picture of my 5 year old daughter at a concert I emceed holding an answer to the 'Love It Or Leave It' Nixon Era bumper stickers - I had printed 500 of them and was giving them away at the concert - They read 'America We Stayed And Changed It'... I'll send it to you for your files.

Norman

You can find Norman at www.normanellisflint.com
Gloria (Johnson)
Jock / Production
1973-1974
(Posted 30 JUN 05, Updated 5 NOV 11)
Gloria (Johnson) is one of Portland's most well-known and best-loved DJs. Below is just a taste of her memories of KQ4.

"Spending a whole night by myself in the middle of an ice storm trying to do a show from a transmitter shack out in the boonies. One turntable, a stack of albums and a hand-held mic. No clock. Had to trust someone would come and rescue me in the morning when my shift was over."
Gloria currently works for Entercom in digital trafficking (ad scheduling).

FROM GLORIA'S MEMORIES -- (read the whole thing)

Gloria Airchex
Dick Jenkins
Jock / Sometime Music Director
1972-1973
(Posted 9 NOV 11)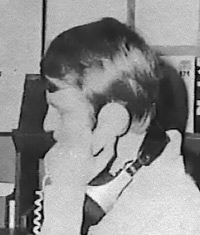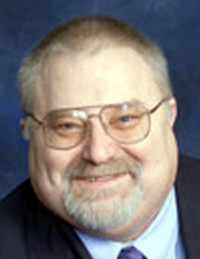 Dick Jenkins is currently working as a consultant for the radio industry, after retiring as the CEO/President of EMF Broadcasting in 2008, having built the 650 signal K-LOVE and Air 1 Networks in 48 states, beginning from a single radio station in 1986. Today, Dick Jenkins Consulting clients include UCB Broadcasting International (with previous assignments in Auckland, New Zealand – Brisbane, Australia - Stoke-on-Trent, England and Belleville, Canada) and he also serves as a board member for Spirit Radio, a 6 station AM/FM national license in the Republic of Ireland. Jenkins US clients include: LifeLight Festivals, Share Media, Logos Broadcasting, Family Life Broadcasting, theDOVE.us and the Immaculate Heart Radio Network and also conducts auditorium testing for clients utilizing DialSmith technology.
Dick Jenkins is a founding member of the Christian Music Broadcasters Association and is currently serving a third term as a member of the board of directors for the National Religious Broadcasters. Jenkins has a rich background in radio broadcasting that spans 35 years as an announcer, program director, music director, operations director, general manager, president and CEO.
In addition to his experience in radio operations, Jenkins has served as executive director of the Northern California Marine Association, lobbied in the states of Oregon, Washington, Idaho, Montana, Alaska and in Washington, D.C. He was also director of sales and operations for the International Gourmet Food and Wine Show in San Francisco.
Jack Malone
General Manager
1972-1974
(Posted 30 SEP 04)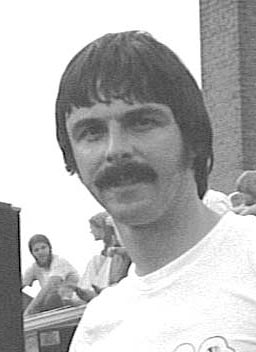 Jack Malone still lives in the Portland/Vancouver area and has contributed VOLUMES of artwork, paperwork and memories to this site. We couldn't have done it without you, Jack. Thanks for still being a great guy and putting up with us old hippies after all these years.

Jack Malone memories page
Gerhard Meng
Sometime Sales Manager
1973-1974
(Posted 4 DEC 04)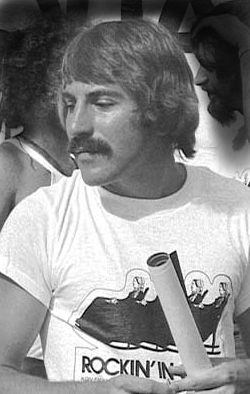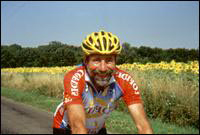 Gerhard Meng, sometime Sales Manager at KQ4, owns Gerhard's Bicycle Odysseys in Portland.

You can find Gerhard's website at: www.since1974.com
Joel "J. R." Miller
Chief Engineer / Weekend Jock
1972-1974

(Posted 27 SEP 04, Updated 30 OCT 11)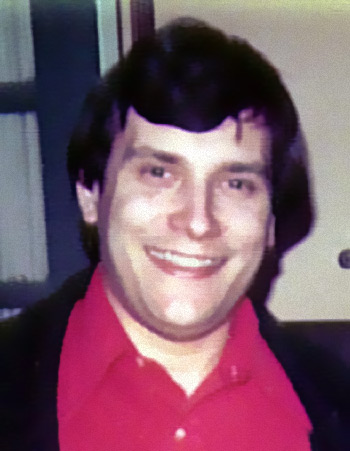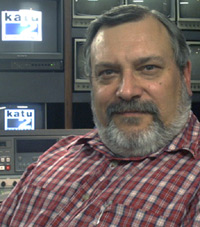 An original staff member of
KQIV
, Joel left in February 1974 to begin what has become a nearly 38 year career as a video editor for KATU Channel 2.
He lives in the Mount Scott area of southeast Portland with his wife Marty (who he married while at
KQIV
), and "kids" Heidi the dachshund and Maggie the cat.
Besides Ham Radio, he also enjoys classic cars and trucks, and target shooting. His musical tastes run from Swing Band-era hits to much of the music that aired on the original
KQ4
, especially the jazz.
Joel recently took over as Webmaster of this site following the retirement of Larry Scott.
Joel "J. R." Miller memories page
Michael "The Crazy Greek" Sakellarides
Jock / Production
1973
(Posted 29 SEP 04, Updated 5 NOV 11)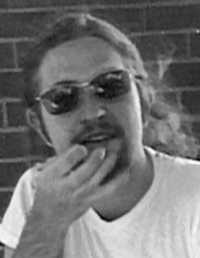 Mike "The Crazy Greek" Sakellarides was one of the favorite jocks at KQ4 because of his easy, laid-back style and warm voice.

Mike left KQ4 for an opening as public affairs producer, airborne traffic reporter, and weekend DJ at 62 KGW, and we all wondered if he would use his real name. That was back in the days when the rule for popular radio was: "three syllables, non-ethnic." Well, true to form, KGW grabbed the jock jingle package they circulated between their King Broadcasting properties in Seattle, Spokane, and Portland, and gave him the choice of using "Andy Barber" or "Mark Stevens." Mike chose Mark Stevens because he felt more comfortable with it, and, at least, he got to keep his initials.

KGW did allow Mike to use his real name on his weekly public affairs program "Speaking Freely," and so, every Sunday night he would segue from zany "Mark Stevens on a Great Northwest Weekend" to the pre-recorded Mike Sakellarides on "Speaking Freely" with the mayor of Portland, or whoever the newsmaker of the week may have been. Over 18 months, no one ever called the station or guessed the two hosts were one and the same person!

In 1976, Mike and his wife moved to Los Angeles where he spent the next six years surviving four format changes at Cap Cities KPOL/KZLA AM & FM. In 1982 he was selected to host the midday show by consultant Mary Catherine Sneed for Cox Broadcasting's 'New Coast 103' where he remained working the next 18 years, and then another seven years for new owner Clear Channel until he was let go along with a morning host and traffic reporter in November 2007.

Encouraged by a friend, Mike pursued teaching media at Fullerton College in 2008 until Gov. Schwarzenegger cut nearly a billion dollars in state college funding, and he was let go.

Mike then was hired by Saul Levine's Mount Wilson Broadcasting to host the revival of a standards format on RETRO 1260. Mike was let go after his year-long contract, and Levine switched to Classical.

A week after his departure, Mike's long-time boss at KOST, Jhani Kaye, hired Mike for weekends and filling in on mornings and other relief at 94.7 FM The WAVE. Mike also is a part-time actor and serves as a Board Member and as the 2nd Vice President of the American Federation of Television and Radio Artists (AFTRA) in Los Angeles.

Mike's airchex

More at: 94.7 The Wave
Larry Scott
Jock / Production / Sometime Music Director
1972-1974
(Posted 27 SEP 04, Updated 5 NOV 11)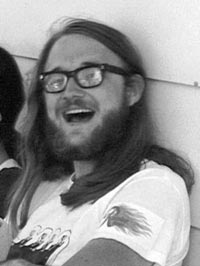 Larry Scott lives in Vancouver, Washington. He is a co-founder and retired Webmaster of this site. Larry still likes the 70s sounds: Tractor, Neu, Funkadelic, Strawbs, any CTI jazz, Pink Floyd, Canned Heat (especially the album with Little Richard and the one where they backed-up The Ventures), Uriah Heep, early Queen, Thijs van Leer, Harvey Mandel, Jan Akkerman, Jukka Tolonen, Golden Earring and anything composed by Georg Friedrich Handel. These sounds get thundered around the neighborhood with a Thorens TD 165 turntable with Empire cartridge into a Kenwood KR- 9400 receiver through a Kenwood GE-56 graphic equalizer and out a pair of too-large Pioneer speakers (the model number tag fell off).

Larry can be found toolin' around 2-meters or 440mhz. Call sign: WA1VET

Larry Scott memories page Larry's airchex