Gloria (Johnson)
Jock / Production
1973-1974
(posted 19 FEB 05)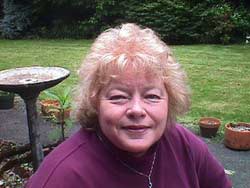 By the time I got to Lake Oswego, the Elks & most of the early KQIV staff had moved on, so I have no stories to tell about them.
People and things I DO remember:

JIM LaFAWN for hiring me in the first place, and getting me to move from SoCal to Oregon.
Spending all night in the production room with JEFF CLARKE, one of the most creative minds I've ever worked with, screwing around with audio tape. And who could forget his "Acme Nose Funnel Serenade"?
Jeff introducing me to FAITH, who remains a good friend to this day.
LARRY SCOTT's passion for hard rock from Europe. Can't believe I'm still playing "Radar Love" on the radio more than 30 years later!
Spending a whole night by myself in the middle of an ice storm trying to do a show from a transmitter shack out in the boonies. One turntable, a stack of albums and a hand-held mic. No clock. Had to trust someone would come and rescue me in the morning when my shift was over. Played more than one Hendrix side that night.
JOEL MILLER cheerfully helping me to move some abandoned furniture we'd found into my apartment on Chow Mein Lane in West Linn.
MIKE SAKELLARIDES, one of the nicest guys in radio, and his midday show with the King Harvest Natural Foods guy.
My first "road trip" to Seattle. Went to see THE BAND and BOB DYLAN at the Coliseum.
Hangin' out at the Hindquarter listening to STEVE BRADLEY.
"Dimers" at the Rusty Duck/Baby Bison.
Almost getting fired because I went out to the Rock Creek Tavern one night, ran out of gas (remember the gas shortages in the early '70s?) and couldn't get back in time for my midnight shift. Took the whole night to hitch-hike back from Cornelius to Lake Oswego, so they ended up taking the station off the air when I didn't show up. Had to do some begging the next day to keep my job.
Closing down the Benson Hotel lobby bar with ROD PRICE of FOGHAT.
Meeting VAN MORRISON backstage at the Paramount.
Interviewing movie producer/director JAMES FRAWLEY (currently produces "Judging Amy" on CBS).
THE BIG B.A. (Bob Ancheta) and his '68 Dodge Super Bee. And yes, it's true, he saved my life by hauling my butt out of a swimming pool at the last KQIV staff party. We all got fired the next day when the format flipped to soul. I owe B.A. big time!
And, the most important event during my time at KQIV, meeting BILL, my partner for more than 30 years, at Today Records in Lake Oswego.